Exposition of grinders and mills (crusher).
Mills, corn mills, poppy mills, grinders, choppers and Porkert´s machines:
In November 2009 there was opened an exposition of hand-held pulverizers and grain grinders. This unique exposition of iron grinders and mills offers the possibility to see the machines that were used in farmsteads or households even in recent times. Today the museum has got more than 170 machines.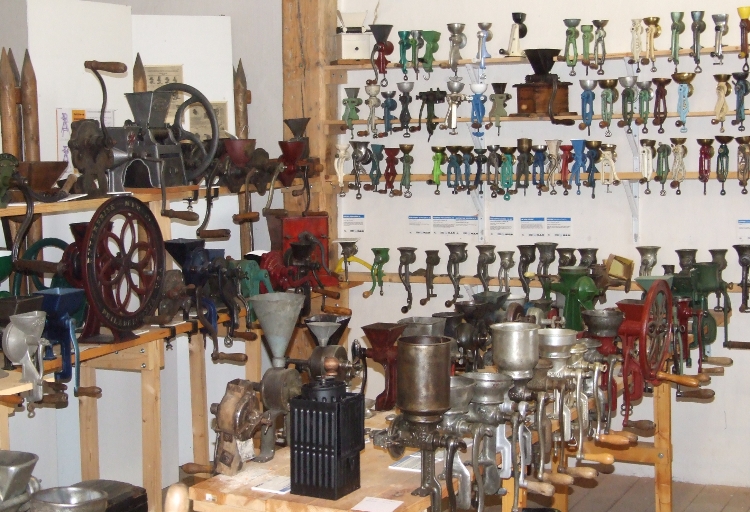 The collection is aimed at hand-held grain pulverizers, hand-held grain grinders, general-purpose grinders, choppers, Porkert machines and special grinders that could have also been used to mill the grain. As a part of the exposition there are also presentations of poppy seed grinders, meat or coffee grinders and graters.
.

Mills (Crusher, Pulverizers):
In the exposition you can find manual drive mills with stones and transmission drive mills as well, then some disc mills where the stones
Among the most interesting exemplars belong a steel mill of the company Enterprise from Philadelphia which was made in 1884, the Mill BLACK HAWK 100 made in about 1900 by A.H. Patch, Clarksville, Tennessee. Huntington Patch invented and patented in 1876 the corn peeler (Corn Sheller Black Hawk).
Other disc mills  american types JHE Tenessee, BRYL,S Universal Patent, german type EICO, austrian type Austria, several types of inter-war czechoslovak mills. Then there are on display the grinder Herkules 3 that have 110 mm diameter one steel cylinder covered with steel spines, types of pulverizers with opposed cylinders (Salamon) and the like.

crusher with stones from the left:
Crusher Wichterle & Kovařík, constructed around 1920, operational
Crusher brothers Smrček, constructed around 1900, after repair
Mill with stones - žerno from Heřmanice, constructed around 1900, before and after repair
Crusher, mill with stones / Poland, constructed around 1910, operational



Crusher, mill with steel plates from the left:
Corn mill Enterprise No.: 750, constructed in USA, Philadelphia, around year 1876, before repair
Grinder Herkules 3, drum with thorns,after repair
Corn mill Black Hawk 100, USA, Tennessee, Clarkvile, constructed around 1910, after repair
Corn mill, constructed before 1940: Strojírny Franz Stejskal, Brno, after repair



Hand-held grain grinders:
Grain grinders with manual drive are machines where the diameter of the stones (discs) is maximally 100mm. Their construction is very similar to that of pulverizers – but they are smaller and naturally they milled slower and smaller quantity.
On these machines as on the pulverizers were milled not only grain and corn but other seeds as well, spice, coffe, some sources also stated milling of tiny bones and roots as feed additives for poultry and cattle.
The following grinders are in the exposition:
american Enterprise, Arcade, Corona, Molino Para Granos,
german Leinbrock, PeDe, Orionette, Alexanderwerk, K & M, Bona Beer,
swedish Husquarna,
czechoslovak Porkert, Sfinx, Bohemia, ŠR,
english Harmony, Spong,
italian Caballito.
and made in the Austro-Hungarian Empire, Belgium, Poland and also several home –made types.


Grain grinders:
Grain mill - Mill  ARCADE No.1, USA, ARCADE MFG. CO. Freeport Illinois, constructed around 1900, operational
Corn grinder - CABALLITO (koník) Caballito, constructed around 1940, operational
Corn grinder - ALEXANDERWERK 400, Alexanderwerk, Germany, constructed around 1920, after repair
Corn grinder - Blau Omas, Germany, constructed around 1930, operational
Corn grinder - domestic production (Silesia/Poland) wood / metal, constructed around 1930, operational


General-purpose grinders:
It is a collection of grinders which purpose was originally different but experience proved that these grinders could have milled much more. Some of them were originally determined to mill coffee, others to press poppy seed, eventually to pulverize powdered dyes. All the exhibits in this collection can mill spice, various types of seeds and grain as well.
There are "iron grinders" of the following producers:
Leinbrock, Alexanderwerk, PeDe – Germany, Husquarna-Sweden, Enterprise – USA, Peugeot, Moulin Beveti – France, Martin – Belgium, Spong, Beatrice, Salter – England, Ostereichishe Hungarishe Industrie – the Austro-Hungarian Empire, Porkert – Czechoslovakia.


General-purpose grinders from the left:
Grinder  / A.MARTIN, production: A.MARTIN , NEUYES FORGES ANNEE, Des Mazures Par Renwes made year  1876, operational
Grinder LEINBROCK'S IDEAL No.0, production: Leinbrock D.R.G.M. , Germany, made before year  1900, operational
Grinder  Husqarna, production: Husqarna, Sweden, , made after 1920, operational
Grinder to grind colors, production Porkert, made around 1920, finding state
Military grinder, probably German, made around 1940, operational - grinds everything



Choppers:
These machines that the producers called Food Chopper, Mincer, cutter, grinder according to the country in which they were made and the purpose they were used for, milled almost everything. More or less it is general-purpose machines where the way of milling is dependent on a special head-knife or matrix. The knives, matrixes could have been replaced.
On these machines, meat, vegetable, baked products, seeds, nuts, grain and the like were milled or cut without crushing. According to available information also the butter could have been made from nuts.  The following producers are presented in our exposition, Universal, Enterprise, Climax, Rollman – USA, Spong – Britain, Scandia (Husquarna) – Sweden, Porkert, Atlantic, Moravia – Czechoslovakia.


Choppers from the left:
Chopper Food / Universal No. 0, New Britain, USA, made by a patent from 1889, operational
Enterprise Food Chopper No. 501, Enterprise Philadelphia, USA constructed around 1920, functional
Food Chopper / Climax Guss No. 52, Climax, USA, made by a patent from, functional
Chopper / ATLANTIC 2, production:  Czeekoslovakia,  made by a US patent from 1930, operational
Chopper / Spong Mincer, Spong London, GB, before year 1940, functional


Porkert´s machines:
Set of these machines is a bit different, presents individual machines for milling the following: grain, spice, breadcrumbs, meat, fruit and vegetable, coffee, there are also scales and an iron of american style. It is a part of the range of machines made in Skuhrov nad Bělou in foundries that were founded by Porkert´s family.
Unfortunatelly this factory that made these machines in our country the longest time – all one hundred and twenty-three years, shut down as the rival companies with cheap goods from Asia made it close. 


Porkert´s machines from the left:
Rotary grater Excelsior, made around year 1900, after repair
Poppy mill (makovník) IDEAL P&C   č.1, made around year 1915, after repair
Mill / Porkert číslo 145, made around year 1940,functional
Fruit press mill Porkert II., made around year 1920, functional
Rotary grater  PORKERT  IDEAL  P&C  č.III , made after year 1920, finding state



Grinders for poppy seed milling :
In the exposition there are also presentations of popy seed grinders used especially for poppy seed milling and milling of other small seeds. According to the producers also the grain could have been milled on these grinders of small pulverizers – naturally in a small quantity. Grinders with opposed cylinders used also for poppy seed milling or making cereal flakes or grain grinding are part of the exposition as well.


Other grinders:
In the exposition there are also presentations of coffee grinders, meat grinders and breadcrumbs and nuts graters, vegetable graters for comparison with other displayed ones.
Or unique pieces, for example:
'GEM' TABLE MINCER Production: Spong London, GB, made around yer 1860.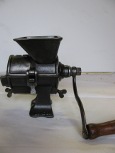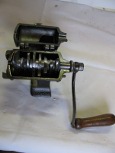 If you are interested visit the museum - you are welcome.